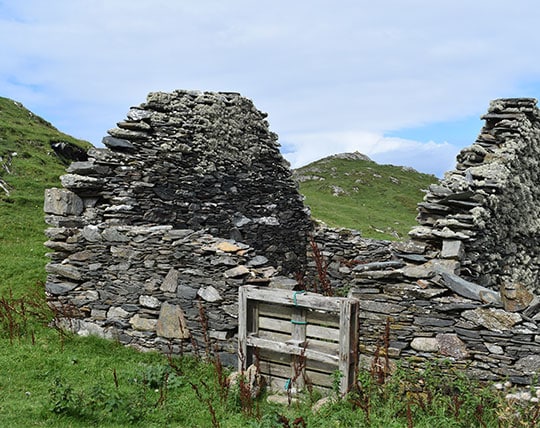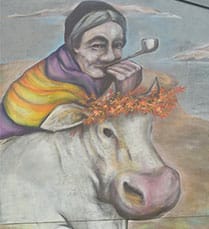 To truly experience Inishbofin's history and culture we recommend booking a guided walking tour with our local expert guide!
Click here to book online now.
Legend has it that two fishermen, lost in fog, landed on an enchanted island, and lit a fire. The flames broke the spell and an old woman appeared driving a white cow along a shingle beach between a lake and the sea. Hence the name Inis Bó Finne (Island of the White Cow). Another tradition is that of the old woman and cow emerging from Loch Bó Finne either every seven years, or as an ominous warning of some impending catastrophe. We haven't seen the old dear recently, so rest assured all is well for your visit to Bofin!
It is estimated that Inishbofin was inhabited as early as 4000 – 8000 B.C. Ancient field systems indicate that the first farmers (4000-2000 B.C.) were responsible for clearing the forests for land cultivation and farming. The promontory fort of Dún Mór, built for defensive purposes, on the west side of the island is thought to date from the Iron Age (from 800 B.C.).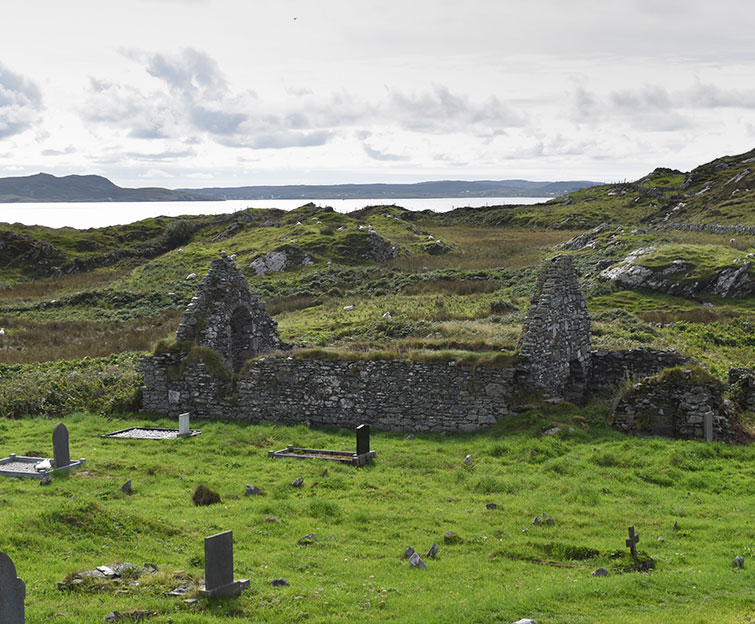 With the introduction of Christianity to Ireland in the 5th century, Inishbofin came under the influence of the early Celtic Church, with the coming of St. Colman, who landed here in 665 AD and established a monastery. Today a ruined stone chapel in the graveyard – dating from the 14th century – stands on the site of St. Colman's Abbey.
Because of its location on the western seaboard, Inishbofin was strategically important in Ireland's military history. From the O'Malleys – led by the legendary Gráine Uaile – to various Irish and English lords, control of the island changed hands many times in the Middle Ages. The remains of the fort, at the mouth of the harbour, dates to Cromwellian times and has been variously used to imprison Catholic priests and defend against French privateers trolling up and down the west coast. By the early 18th century, Inishbofin's strategic military value had declined, and the garrison was withdrawn in the early 1720s.
Newsletter
Be inspired. Stay connected. Subscribe here!